ARKASSIPPI Back Porch Ribs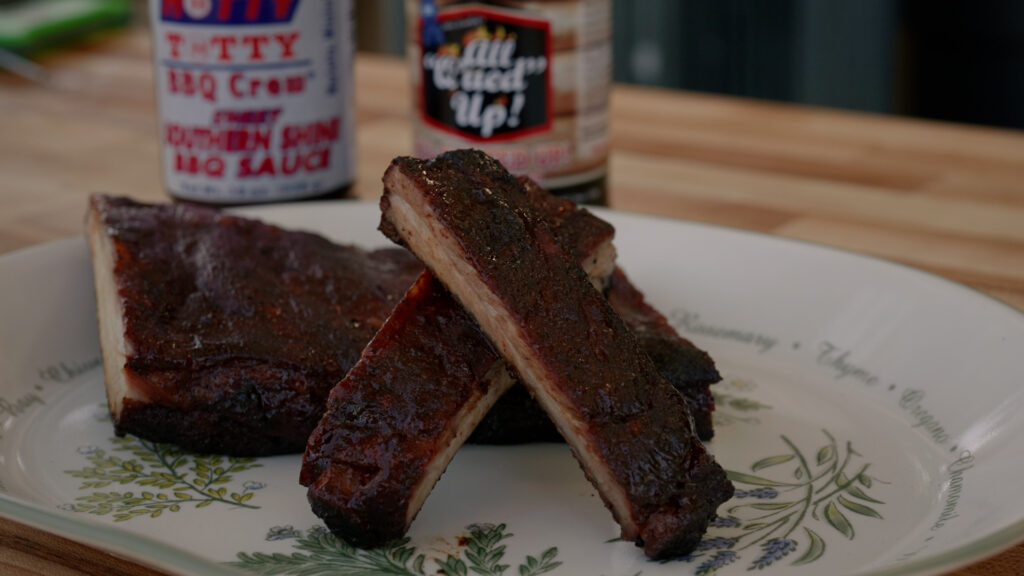 All Qued Up Got To BBQ Rub
Hotty Totty Rib Rub
Big O's Rib Rub
All Qued Up BBQ Sauce
Hotty Totty BBQ Sauce
2 Racks Compart Duroc St. Louis Spare Ribs 1 stick of butter
1 can of Mellow Yellow soda
Mustard
Lightly apply mustard to ribs as a binder and Season Ribs using the AQU Go To BBQ rub, HT Rib Rub, and Big O's Ribs Rub
Place ribs in a smoker and cook bone side down for 1 hour @ 300 degrees.
Spritz ribs with water at the 1 hour mark and continue to cook until a dark mahogany color has formed and the seasoning applies will not rub off.
Use aluminum foil to wrap ribs with 1/2 stick butter, 1/8 cup AQU BBQ sauce, and 1/4 cup Mellow Yellow.
Place ribs back on the cooker and start checking for tenderness after about 30 mins.
Cook until ribs bend with ease, but don't break. The internal temp between the bones should be around 205 degrees.
Remove ribs from wrap and sauce lightly with a 50/50 mix of All Qued Up and Hotty Totty BBQ Sauces.
Return to smoker for 7 mins.
Slice and enjoy.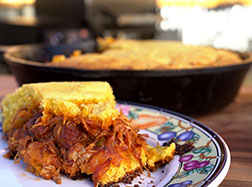 1 cup chopped onion
1 cup chopped green bell pepper
1 cup chopped celery
1 tablespoon minced garlic
2 tablespoons vegetable oil
1 1/2 pounds pulled pork
a 12-ounce can tomato sauce
2 tablespoons tomato paste
10-ounce package of frozen corn, thawed
2 packages of Old El Paso taco seasoning
1 teaspoon Tabasco plus additional to taste
¼ cup of BBQ sauce
1 cup grated mild cheddar cheese
2 boxes of jiffy cornbread mix
1/2 cup grated mild cheddar cheese
a 4-ounce can green chili peppers, drained and chopped
Make the pork mixture
In a large cast iron skillet, cook the onion and the bell pepper in the oil over moderately low heat, stirring, until the onion is softened, add the pork, and cook the mixture over moderate heat, stirring occasionally. Stir in the tomato paste, tomato sauce, the corn, the taco seasoning, the Worcestershire sauce, the BBQ sauce, 1 teaspoon of the Tabasco and salt and black pepper to taste, simmer the mixture, stirring occasionally, for 30 minutes, and add the additional Tabasco.
Make the topping
Into a large bowl pour the cornbread mix and follow the directions on the box. Stir in the Cheddar cheese and the chili peppers and mix well.
Making the Tamale Pie
Preheat oven to 400 degrees. In a separate large cast iron skillet, heat 2 tablespoons of vegetable oil in oven for about 10 minutes.
Pour half of the batter into the skillet and place in oven for 10 minutes.  Remove from oven, spoon in pork mixture evenly, cover with cheddar cheese, pour half of the cornbread mixture you have left over the pork, make sure not to add too much as it will spill over as it rises.  reduce the heat to 350°F.,
and bake the Tamale Pie for 30 minutes more. The cornbread should be golden brown.  Garnish with salsa and sour crème.
Sautéed Mushrooms and Onions
2 pkg baby Bella fresh mushrooms
1 lg sweet onion coarse diced
2 tablespoons olive oil
1 tablespoon diced garlic
¾ cup Dale's Low Sodium marinade
Coarse salt, pepper and Hardin's seasoning to taste.
In a skillet on medium high heat sauté the onions and garlic until the onions are translucent. Add the mushrooms and Dales Marinade, salt, pepper and Hardin's and bring to a boil.  Reduce heat to medium and simmer another 5-7 minutes. Reduce to low heat and hold until time to serve.
Creamy Garlic and Bacon Brussel Sprouts
6 slices Compart bacon
1 tablespoon butter
4 cups (or 32 oz) Brussel sprouts bottoms removed and halved
1 tablespoon garlic minced
1 teaspoon Hardin's Seasoning
salt and pepper to taste
1 cup heavy cream
3/4 cup shredded parmesan cheese
3/4 cup shredded mozzarella cheese
Pre-heat oven to 350. Cook bacon and set aside. Reserve 2 tablespoons of bacon grease.
In the same pan, add 1 tablespoon butter and brussels sprouts. Season with salt, pepper and Hardin's. Cook for 4-5 minutes, stirring occasionally. Add the garlic and cook for another 2 minutes.
Dice up the bacon into small pieces. Pour in heavy cream, stir until simmering. Taste the flavor and adjust salt and pepper as need. Add the cheese and bacon.
Transfer to the oven and bake 15 minutes or until the brussels sprouts are tender.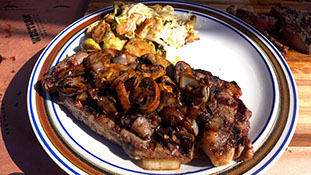 Enough for 2 steaks –
1 tablespoon Hardin's Seasoning.
1 tablespoon each of salt, pepper and garlic.
For garlic butter –
1 stick salted butter
1 teaspoon garlic powder.
½ teaspoon Hardin's seasoning.
Season steaks with Salt, pepper and garlic and let steaks rest and come up to room temp before cooking
On a hot grill, Grill steaks approx. 4 minutes a side.
Baste each side with melted garlic butter.
Pull at 128 degrees.
Rest for 10 minutes before slicing.