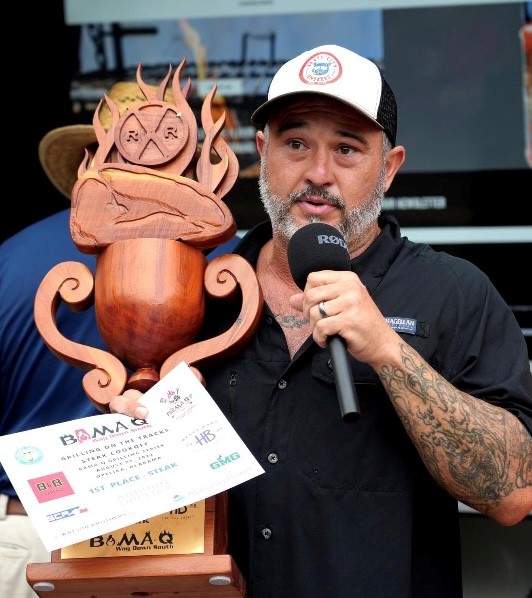 Charles Dabbs is a lifelong resident of the Mississippi Gulf Coast who is deeply passionate about cooking, fishing, playing pool and spending time with his family. Charles has 6 children and a loving wife who he holds dear to his heart. Charles' love for cooking with fire and smoke was passed down to him from his late Grandfather "Big Jim" Thrasher who was a major influence in Charles' life and inspiration to pursue professional food sports. Charles began competing in professional food sports since 2016 and since then it became his ultimate passion.
In 2022, Charles achieved some notable accomplishments, he took first place in SCA Shed Showdown pork category and first place in SCA Bama Q "Grilling on the tracks Steak cook-off, in addition to numerous top 10 calls in the SCA. Charles' approach is all about inclusivity and he makes it a point to welcome all he meets, he has a warm and welcoming personality that makes him an ideal team member and a good sport. Charles' passion for cooking and love for BBQ is evident from his notable achievements and strong participation in the SCA circuit. He is often referred to as "CJ" and when you see him, you can be sure to say hello!
2022 Accomplishments:
First place SCA Shed Showdown pork
First place SCA Bama Q "Grilling on the tracks Steak cook-off,
Numerous top 10 calls in the SCA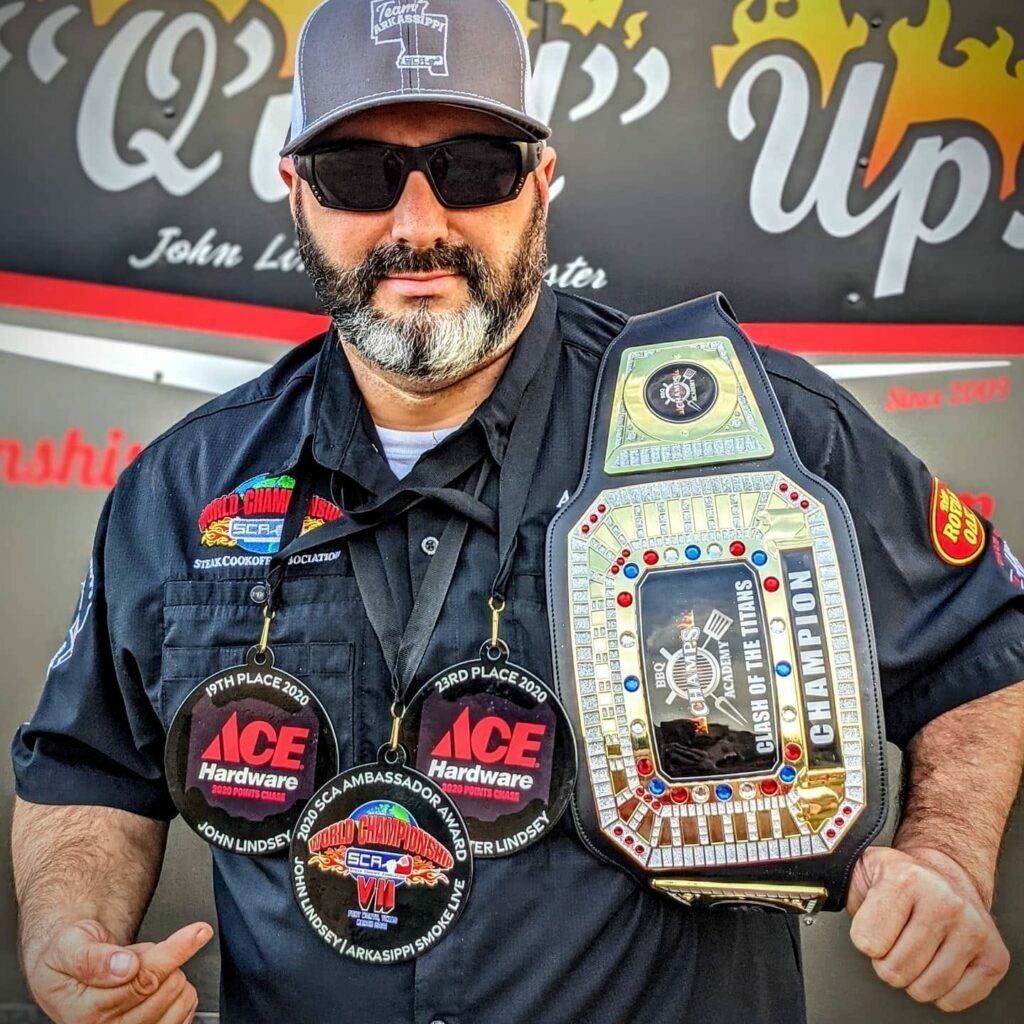 John Lindsey is the Grillmaster of the All Q'ued Up Competition Cooking team and is a sought-after grilling instructor, teacher, and talk show personality. He has a full line of seasonings and rubs and is a co-host of the popular facebook cooking talk show, Arkassippi Smoke Live.
Accomplishments:
Co-Host Arkassippi Smoke Live
Member of Hasty Bake Pro Staff
We have a full line of All Q'ued Up Rubs on the market and a sauce coming soon. The All Q'ued Up Rockin' Rooster Poultry Seasoning was voted the NBBQA 1st Place Poultry Rub for 2021.
Active social media including Instagram, Facebook, TikTok, and YouTube.
Active guest on several popular podcasts and talk shows including The Butcher BBQ Podcast, BBQ Champs Live, The Pitmasters Podcast, The Tailgate Guys Podcast, The BBQ Beat w/ Kevin Sandridge, and The Earl Ferral Show on The Voice FM 107.9.
Member of Royal Oak Pro Staff
Member of the BBQ Champs Academy team of Pimasters and Grillmasters with a full tell all SCA Masterclass video series at bbqchamps.com.
2018 Steak Cookoff Association Newcomer Of The Year
2018 SCA National Points Race 4th place finisher
2019 SCA National Points Race Champion Runner Up
2020 Winner and Grand Champion of BBQ Champs Academy Ultimate Steak Showdown steak competition.
2020 SCA Ambassador Of The Year
4 time Qualifier for the SCA World Championship
Crowned Grand Champion at the first ever SCA QUAD event in Azle, Tx.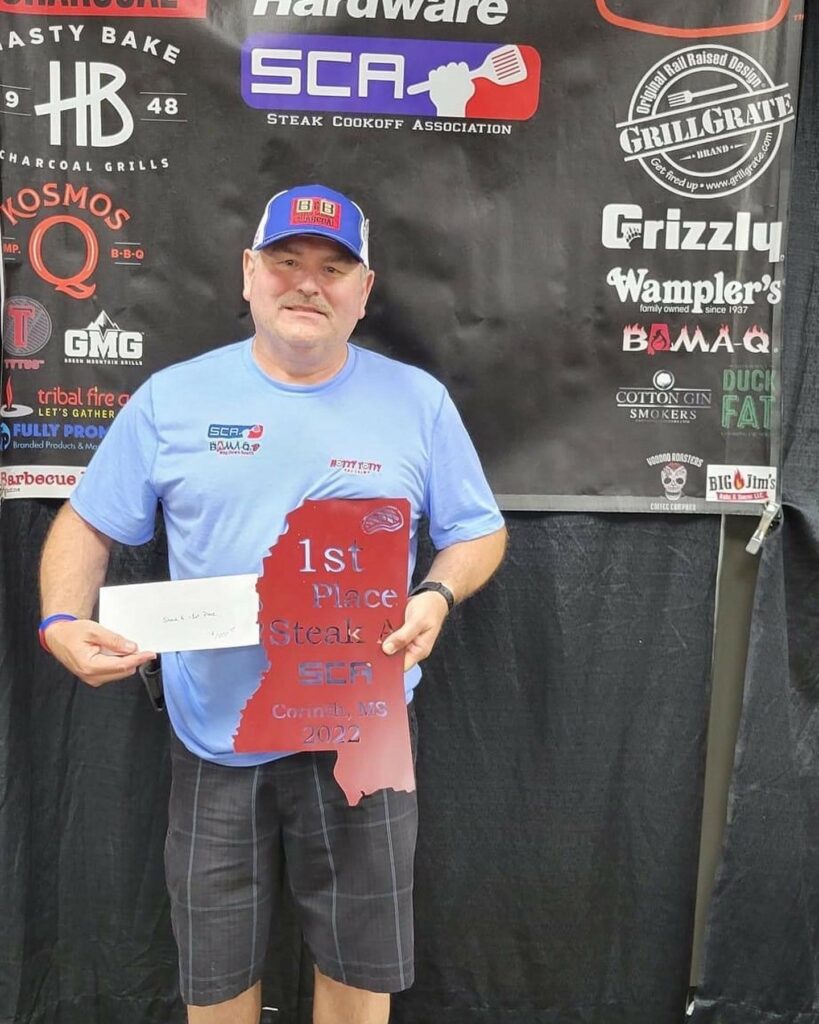 Hotty Totty BBQ/Steak Crew, led by Ronald, started competing in BBQ contests in 2009 and eventually began competing on the KCBS circuit locally. Over the years, they have won multiple grand championships and received invitations to compete at the American Royal World Series of BBQ and The Jack Daniels World Championship. In 2017, the team started competing in Steak Cookoff Association (SCA) contests and has been hooked ever since. In 2020, Ronald had seven wins in SCA contests and 25 top-10 calls in 8 states. They also finished 14th place in the USA Ace Hardware Points Chase. The team's accomplishments include winning the Octagon Steak Challenge in St. Louis and splitting a $10,000 purse in 2021. Ronald also developed six seasonings and a BBQ sauce; one of their best is their Climax AP which has proven results across the country and in Europe. They also host the Arkassippi Smoke Live and the SCA Ribeye Roundup show weekly, and they are proud of their partnership with BamaQ TV. They also launched a line of products along with Bamaq, the first being Garlin Butter Bomb, which has been very successful on the competition trail and the backyard.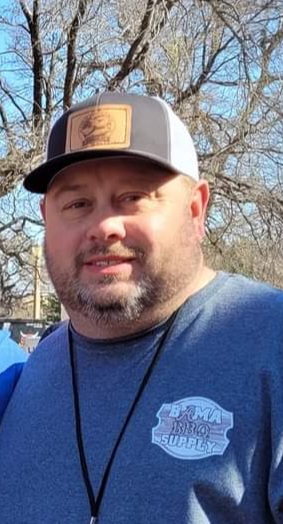 Rob, who was born and raised in Mobile, Alabama, is a seasoned BBQ competitor and the owner of Bama BBQ Supply. Since 2012, he has been competing in BBQ contests and since 2019, he started participating in steak competitions as well. He has a strong track record of success with 8 Grand Champions and 7 Reserve Grand Champions, as well as numerous 1st place category wins in KCBS and BCA competitions. In 2020, he finished in the top 10 in chicken and ribs for KCBS backyard team of the year. In SCA competitions, he has had 5 first-place finishes and numerous top-10 calls. Rob's deep knowledge and experience in the BBQ competition circuit is reflected by his store Bama BBQ Supply, which is a well-known establishment for BBQ enthusiasts and competitors.
Has 8 GCs and 7 RGCs
Numerous 1st place category calls in KCBS and BCA.
Finished top 10 in chicken and ribs for KCBS backyard team of the year in 2020.
Has 5 first-place finishes and numerous top-10 calls in SCA.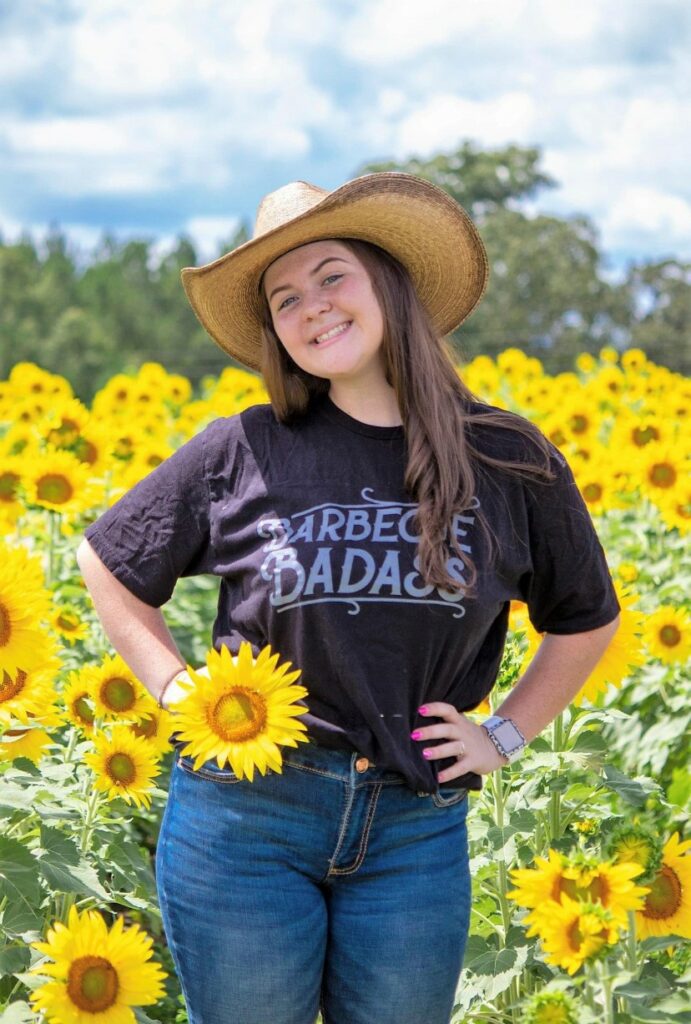 Rylee Wright, also known as Steak Princess BBQ, is a 16-year-old girl from Georgia who loves to cook. She began her journey in food sports at the age of 11, and has since competed in various Steak Cookoff Association (SCA) and backyard division in KCBS events, placing in the top 10 in many of these competitions. In October 2020, Rylee achieved a notable accomplishment as the youngest person to win the first-ever ladies Steak Cookoff event held at Loblolly Farms in Semmes, AL. She also became the first female and youngest to win two Steak Cookoff events in the same day in 2022. Additionally, Rylee is the youngest person to have a perfect steak score in the SCA, which she earned on October 22, 2022 at Deep Roots Festival in Milledgeville, GA.
Rylee also has experience in creating her own seasoning rubs. She was challenged to start creating her own rubs in January 2020, and after experimenting with different flavors and profiles, she released her first two rubs, Beauty and the Beef and Rylee's Sweet Rapture in October of 2020. The following year, she decided to run for ancillary points in the Steak Cookoff Association, which inspired her to work on two more rubs, Rylee's Cajun Firefly Dust and Rylee's Fiesta Rub, both of which were finalized after several months of recipe development and testing. All four rubs have had great success on the competition circuit and when used at home, Rylee also finished 7th in the Steak Cookoff Association Ancillary Points for 2021.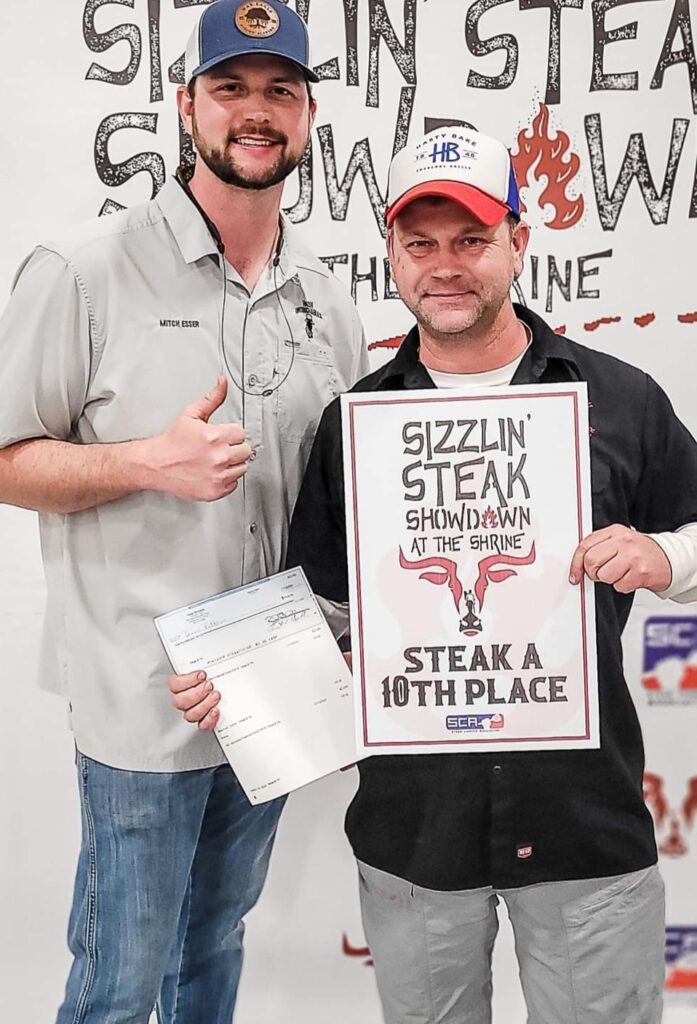 Travis Patterson is an active-duty Coast Guard member with over 19 years of service. In 2018, he started Flaps Up BBQ Team with his family, and since then they have competed in over 60 BBQ and Steak events in 7 states across the country. The team's competitive spirit and dedication to the craft have paid off, as they have achieved over 40 top 10 finishes in 2021 and have qualified for the prestigious SCA World Championship event.
As a Coast Guard member, Travis has developed a strong sense of teamwork and leadership, which he brings to the competition circuit. His family's involvement in the team also highlights the importance of family and community in the competitive BBQ world. The team's consistent performance and ability to qualify for the SCA World Championship highlights their dedication and skill in the art of BBQ and steak cooking.
Travis' professional background as a Coast guard member, combined with his passion for BBQ and steak competition, has made Flaps Up BBQ Team a fierce competitor in the BBQ Circuit. With their impressive results, they are sure to continue making waves in the competitive BBQ scene.