SLE Rodeo Steak Championship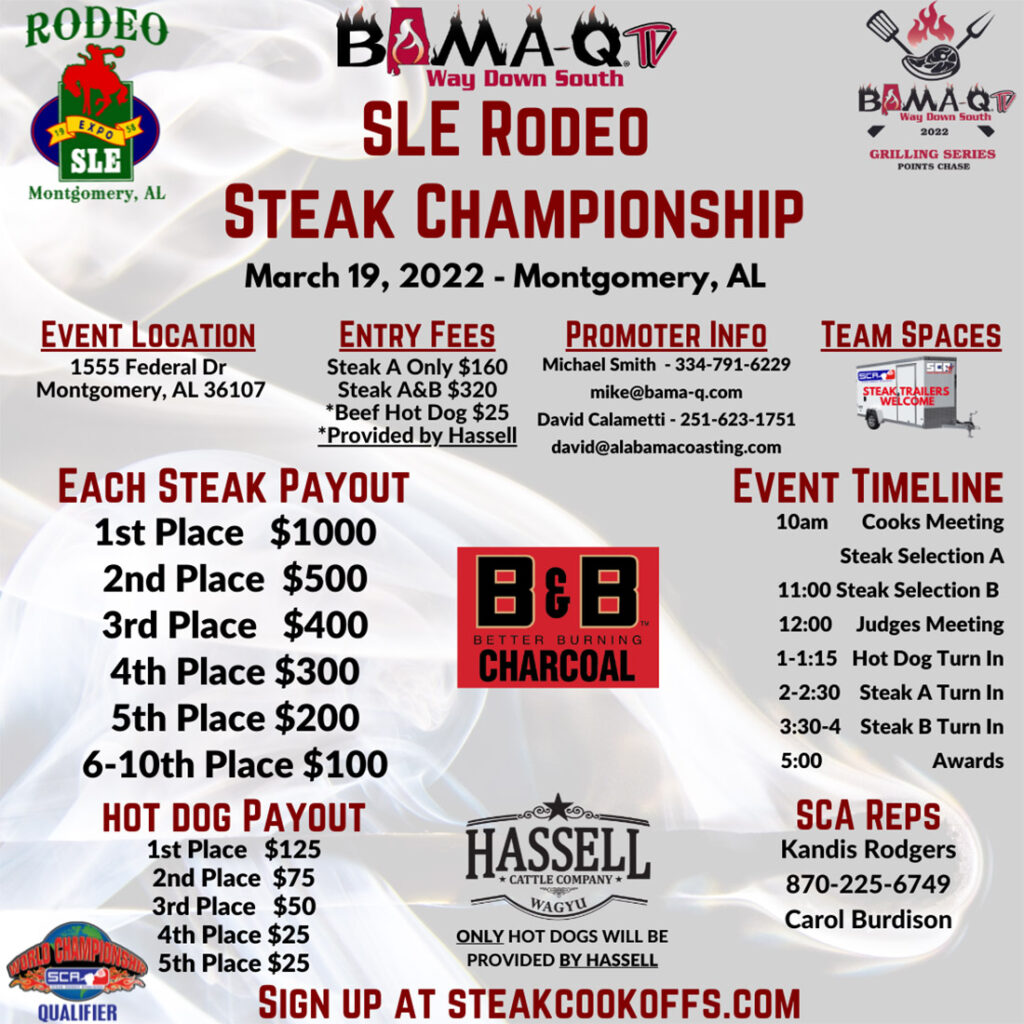 Grilling at the Fort Steak Cookoff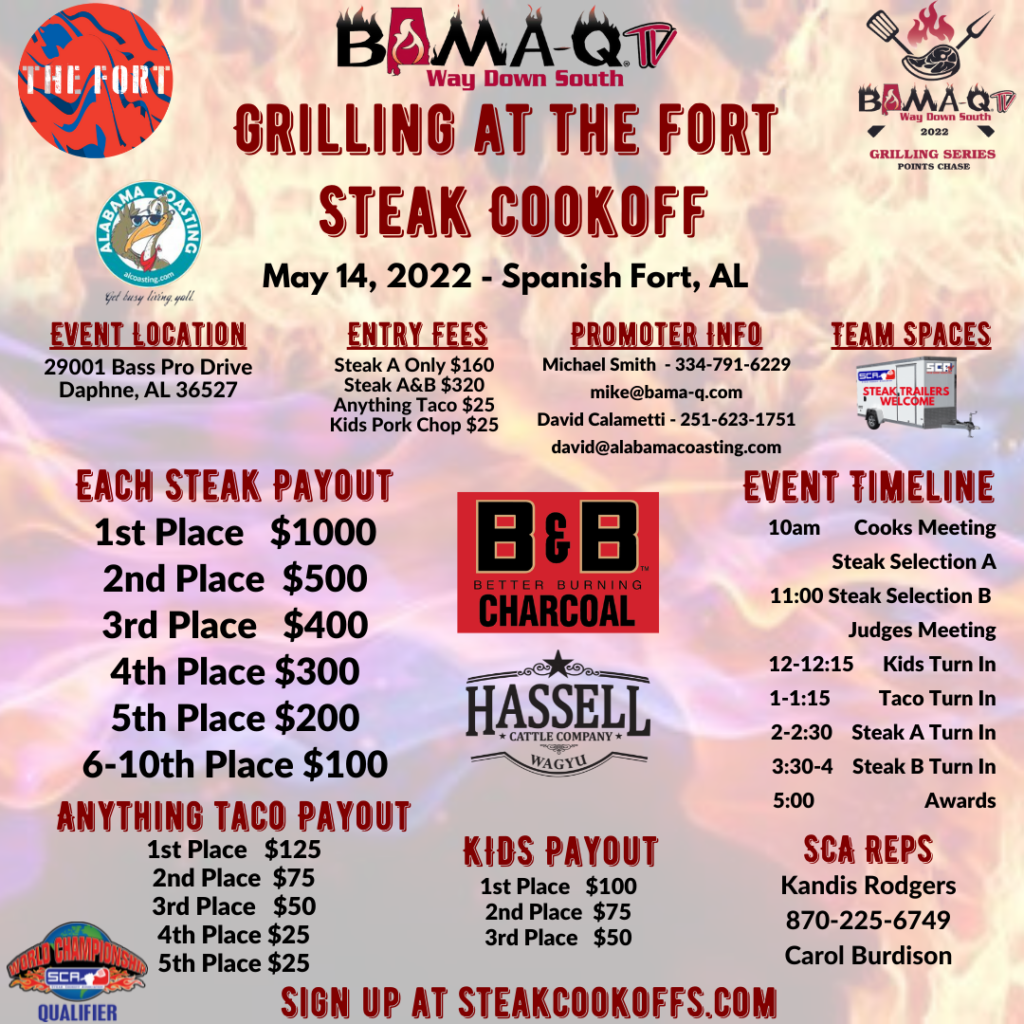 Grilling In T' Town Steak Cookoff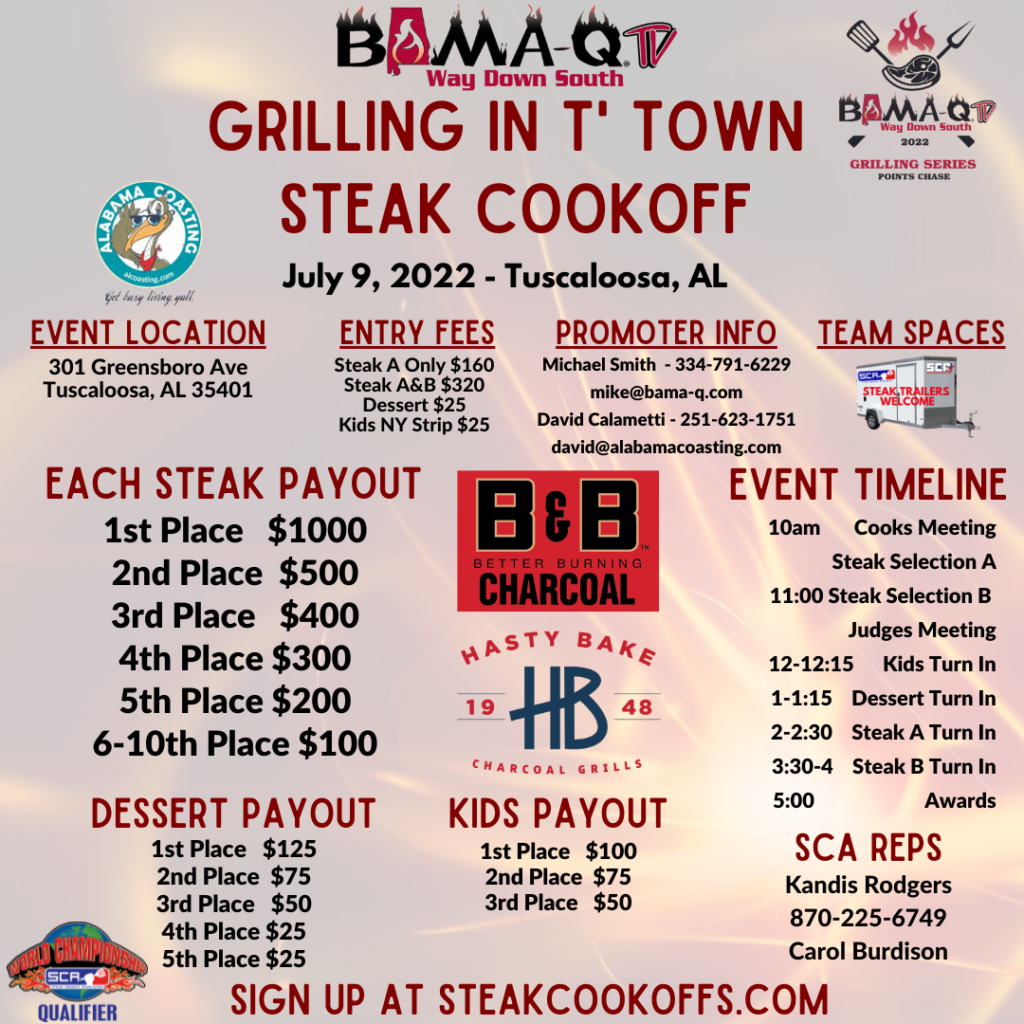 Grilling on the Tracks Steak Cookoff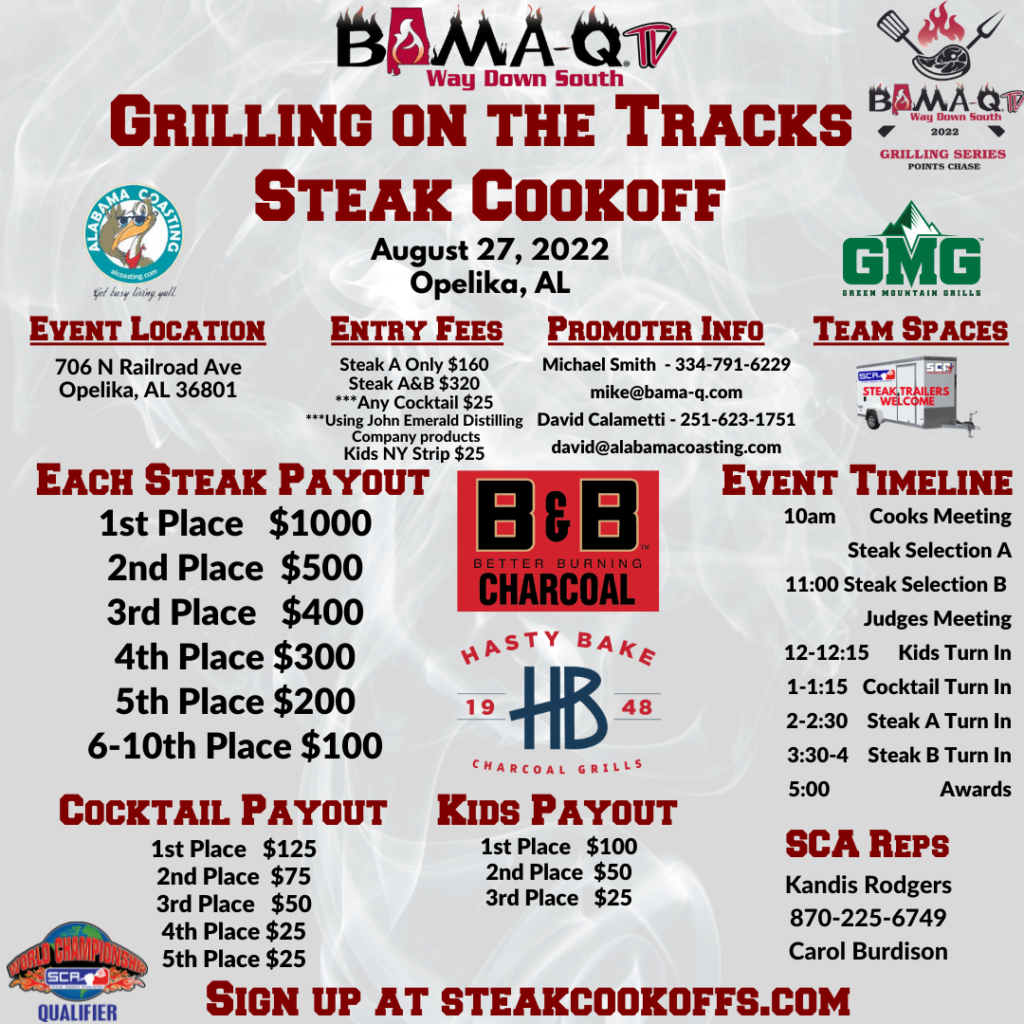 Grilling in the Bayou Steak Cookoff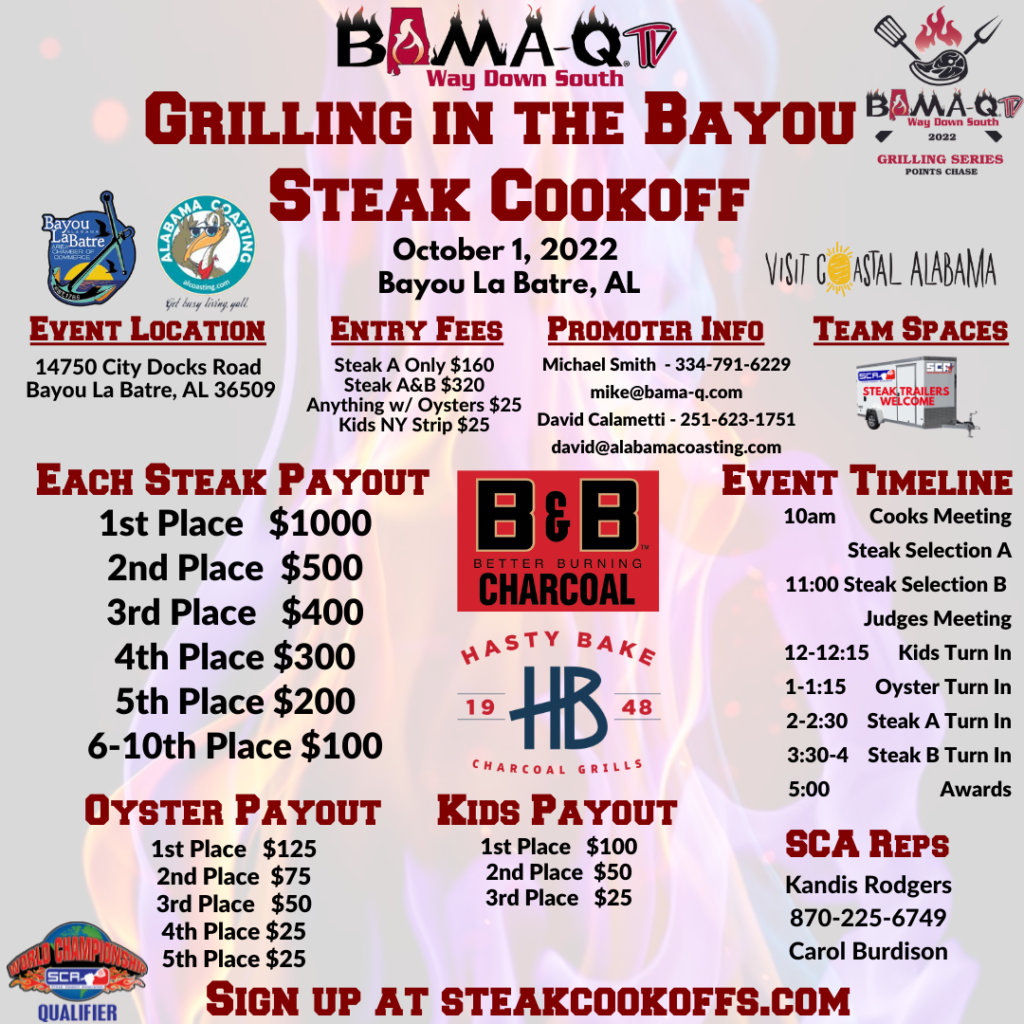 BAMA-Q FEATURED COOK RUSS ALLEN RED BONES BBQ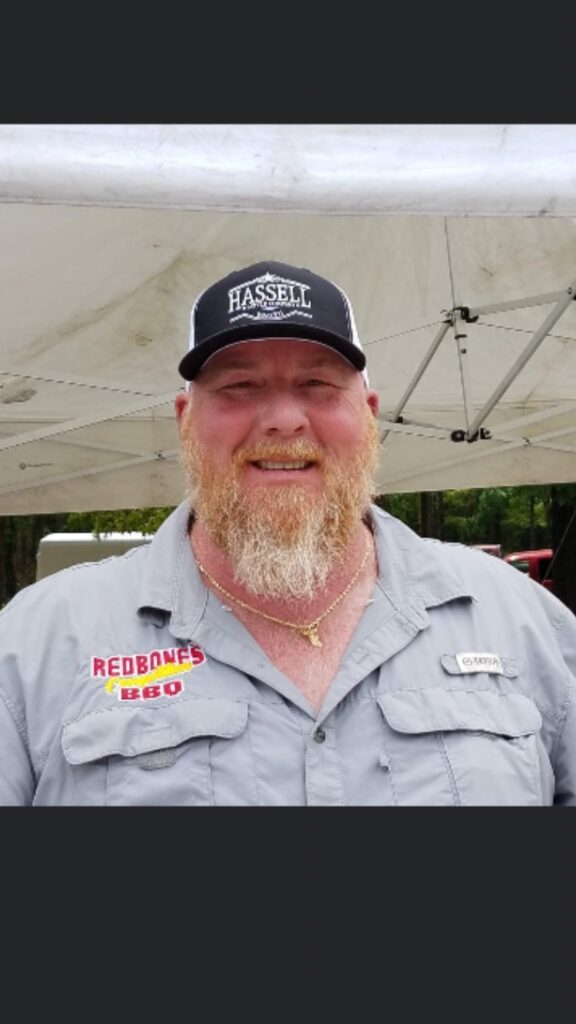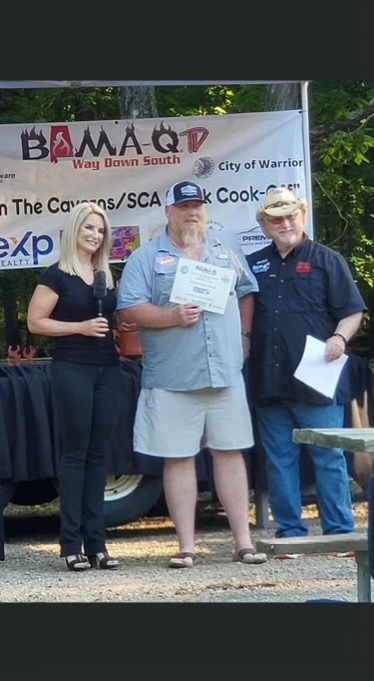 A Bama-Q favorite is stepping up his game and taking on the challengers in Bama-Q Season 5 "The Steak Out". Russ Allen of Red Bones BBQ is grilling up steaks this season and competing with John Lindsey, Ronald Burns, Rylee Wright and more when Bama-Q returns this fall.
Bama-Q fans will remember Russ from Season 3 when he first started competing on the show in Barbecue and went to the World Food Championship but Russ began his cooking career in BBQ back in 2018. That year he cooked 16 contests and finished up with a 5th place in the Alabama Barbecue Association Team of the Year (TOY) points. When he joined Bama-Q in 2019 he competed in 22 contests including 4 or 5 SCA Steak Cook-offs. He finished 4th in the ABA TOY points race and also won a first place steak finish at Riverfest in Decatur, Alabama. By winning first place he earned a golden ticket to the World Food Championships in Dallas, Texas. During 2020 with the COVID pandemic raging, he still managed to cook in 13 BBQ contests and 7 or 8 SCA events. With contests cancelling all over the state of Alabama because of the pandemic he had to travel a little more than usual. Russ traveled to Georgia where he won his first Grand Championship and to Mississippi, Florida, Tennessee, Indiana, Virginia, and Kansas. He earned enough points in the KCBS Team of the Year points race to be honored with a first place in chicken and 8th place in ribs in the world for 2020.  Russ cooked in the KCBS World Invitational BBQ Contest in Kansas and was awarded Team of the Year trophies at the end of the season banquet. He also finished in 4th place again in the 2020 ABA TOY points race. Russ says, "It's been a heck of a ride and enjoyed every minute of it. This is the only hobby I know of that your fellow competitors are also your family. I have made friends all over the country that will last a lifetime."
Bama-Q is pleased to feature Russ on another Season! Watch Russ compete with the rest of the Bama-Q crew on the Bama-Q Apple TV App, Roku and LG Smart TV's.
Bama-Q Featured Cook Brent Bourland, Bees Knees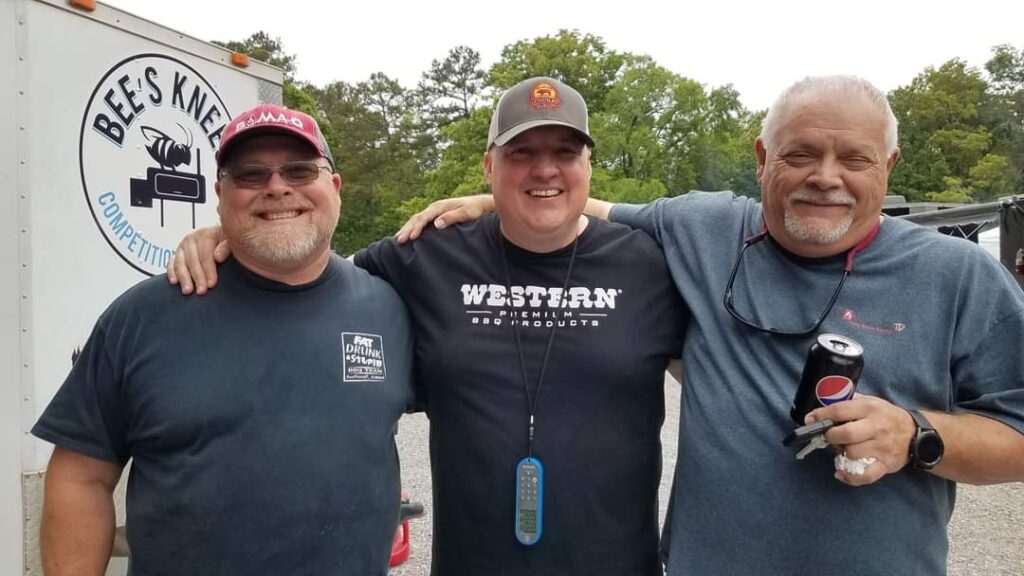 A familiar Bama-Q face is returning in Season 5 to test his skills at Steak. Brent Bourland of Bees Knees will be firing up his grill to compete with John Lindsey, Ronald Burns, Rylee Wright and more when Bama-Q returns this fall. 
Brent Bourland competed with Jeff Cole on the team Bees Knees in prior seasons on Bama-Q. Jeff was his BBQ buddy and good friend who appeared on the show and together made viewers laugh with their antics. Sadly, Jeff died in 2020 of Covid. His death was devastating for Brent…so much so that he wasn't sure if he could continue cooking without him. After some soul searching and encouragement from show producer Mike Smith, Brent decided to carry on. He knew he wanted to keep all the wonderful relationships and stay connected with the cooking world. Because Bama-Q was going to be filming SCA Steak Competitions, Mike and Hasty Bake sent him a grill to cook steaks and help keep his competitive spirit alive.  Brent spent a day learning to cook the perfect steak with Jared Ogle, Paul Trahan and Michael (Sloth) Slayton. Brent says there's a lot more to it than he realized with the different steps, certain temperatures and thickness of steak. He says there's lots of detail but he's up to the challenge. His training session paid off…he's already placed in the top ten in two of the Steak competitions he's attended. Brent says Jeff once told him if anything ever happened to him he should keep cooking and we're so glad he is!
Brent is sharing a cook space with Ron Stephens of Fat, Drunk and Stupid who is also competing in the Bama-Q SCA Steak Cook-offs. While they're cooking side by side they're still competing against each other. Ron and Brent are good friends. They've been deer hunting together for four years and go duck hunting in Arkansas every year.  Brent says "we compete against each other but we root for each other."
Brent says his love for cooking goes way back. He says there weren't very many good BBQ places in the Huntsville area when he was growing up. One day a friend brought him a really good home cooked pork butt and he was so impressed, he decided to start cooking barbecue. Years later, Brent asked his friend Jeff to join him in Competition BBQ and they became the Bees Knees BBQ team. Brent says he enjoys competing in Steak Cook-offs but his passion is still BBQ and he continues to compete at those venues. While he gets help from friends who join him he says "Jeff will always be my teammate". Brent says cooking and competing for him is less about winning awards and more about the great people, the camaraderie and all the support that is very much a part of the competition cooking world.
When he's not competing, Brent keeps busy with his day job. He's an Operations Manager for a raw materials company that supplies metal to the military and various subcontractors.  He also shuttles his two daughters between school, band practice and majorette practice. His wife is an optometrist in the Huntsville area.
We're so pleased to feature Brent on another Season of Bama-Q! Watch Brent compete with the rest of the Bama-Q crew on the Bama-Q Apple TV App, Roku and Amazon Fire TV.
Bama-Q Featured Cook Rylee Wright, The Steak Princess BBQ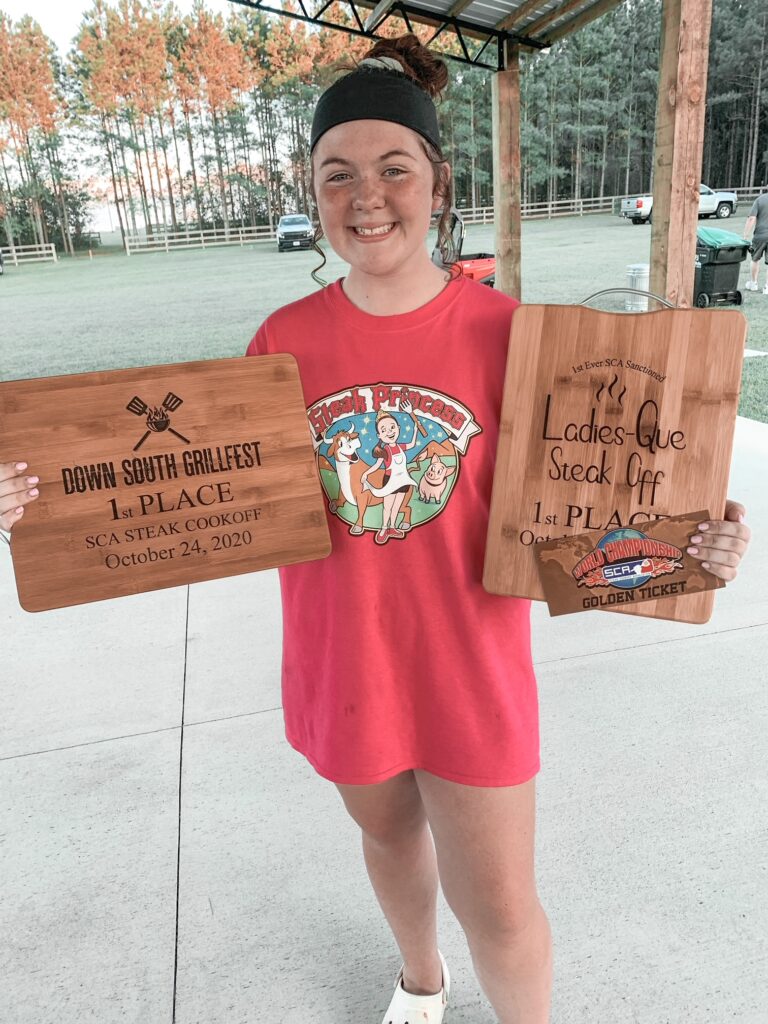 One of the newer faces on Bama-Q Season 4 is Rylee Wright, The Steak Princess. At fourteen, Rylee is the youngest cook featured on the show but she is also one of the most competitive.
Rylee says she was inspired to cook at a young age by watching her Dad cook outside and in BBQ competitions. Rylee got her first grill at eight years old and now owns at least 5 grills/smokers. She won the first ever ladies Steak Cookoff event which was held at Loblolly Farms in Semmes, AL. Rylee also was the first female to win two Steak Cookoff events in the same day. She totally enjoys cooking in the SCA Steak Cookoffs and also in the backyard competitions in KCBS BBQ.
Rylee has cooked with some famous names including Myron and Michael Mixon, Malcom Reed, Jay Durbin and Mark Williams. You could say some of that talent has "rubbed" off on Rylee. She's walked in the top 10 for steak in 11 contests this year. She may be the "Steak Princess" but she is fast becoming the Ancillary Queen. Rylee has heard her name called in the top 5 for Ancillaries numerous times and is in the points chase for the category. So far this year she has competed in 40 or more SCA events. Rylee says she really enjoys cooking ancillaries the most because she really likes cooking different dishes and she can be more creative with them.
At fourteen, Rylee is competing against the adults. She says it's not too nerve wracking and it's actually pretty fun. Sometimes it's a challenge because there's so many talented cooks out there. Rylee says she is very grateful for the support and sense of community that is very much a part of the SCA family. She appreciates all the tips and inspiration the other cooks provide along the way. She also appreciates her family's support by driving her to the competitions and giving her guidance, but letting her do the cooking.
Rylee also developed her own line of rubs and merchandise which can be found at www.steakprincessbbq.com. She is continuing to test and develop new products every day and has more to release in the near future including Rylee's Fiesta Rub…a Southwest Rub with mild heat but not very hot and a Cajun rub called Rylee's Fire Fly Dust which is a little hotter than the southwest rub.
Even when Rylee's not competing, she's cooking and one of her favorite things to make at home is Rack of Lamb. She enjoys playing soccer and she's also an A student. Wow.
Rylee says in the future she hopes to attend culinary school and run her own business. For now, she hopes to encourage other kids to get into cooking and competing. Rylee says, "I just hope I keep inspiring younger kids to get out there and have fun." She also says, "Just try it and see if you like it. Go with someone and hang out and see if it's something you would like. Usually when I walk…it's super exciting to get a call."
Check out Rylee in "Cooking With Bama-Q" segments where she shares some great recipes such as Rack of Lamb and Triple Berry Cobbler at www.Bama-Q.tv, the Apple TV App, Roku, and Amazon Fire TV. You can see Rylee compete on Bama-Q Season 5 which will air in fall 2021.
Bama-Q Featured Cook - John Lindsey, All Q'ued Up/Arkassippi Combo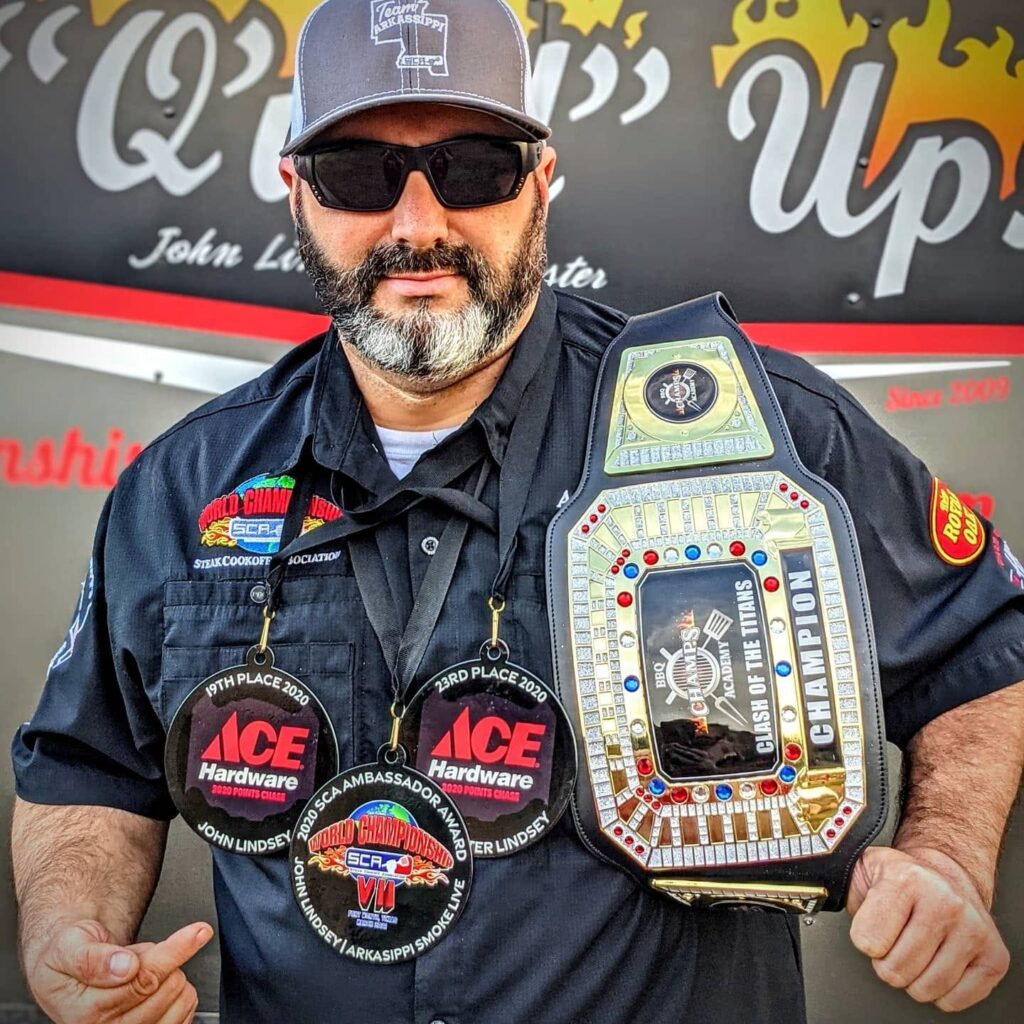 One of the fiercest competitors on the Bama-Q SCA Steak Cook-off trail is John Lindsey, Grillmaster of All Q'ued Up Competition Cooking team. Don't let the good looks or the southern charm fool you. He will smoke you in a competition every chance he gets. That's how much he wants to win.
John's love of cooking goes way back to early childhood…spending time in the kitchen with his grandmother Lille Mae and watching her whip up some of the best soul food over a wood fired stove. Those experiences sparked a life-long passion for cooking.
In 2015 John started cooking BBQ competitions and walked away with 2 top five finishes in his first contest in chicken and pork. In 2017 he was at a BBQ competition that included a SCA Steak Cook-off. He decided to test his skills at steak and won first place. Sparked by a desire to do steak cook-offs he hung up his BBQ apron for a little while because he felt he couldn't do both at the same time and it's paid off. He's qualified for the SCA World Championship every year since 2017.
John met Ronald Burns on the BBQ circuit and they liked each other's products so much they decided to get together and form Arkassippi Smoke Live and the Arkassippi Combo…a collaboration between John's All Q'ued Up and Ronald's Hotty Totty. John and Ronald travel the country teaching Layerology 101…the science of mixing and blending their various spices to create unique flavors. Team Arkassippi is made up of around 30 team members/brand ambassadors who compete against each other and other teams throughout the US.
Did we mention that when John tries something new he goes all in? John and Ronald took their Layerology overseas and Team Arkassippi Europe was born in 2021. Run by Team Captain Tim Van den burg from Holland, members compete on the SCA European Tour. John says once Covid is behind him, he would love to compete in Europe. He says The Arkassippi Combo is very popular in Germany, Holland and all across Europe. More information on Arkassippi Combo products can be found at steakrubs.com
John's talent extends beyond cooking. He's an Insurance agent. He's also a professional bass player. He's been playing since he was 14 years old and toured with multiple bands including Billy Joe Royal for several years.
He also competed on the Made for TV series Barbecue Champs Academy Ultimate Steak Showdown. Four of the best BBQ cooks, world champions and points champions, battled it out and John won. The show aired on Bbqchamps.com in March 2021.
Bama-Q is very proud to include John in our talent line-up of featured competitors.