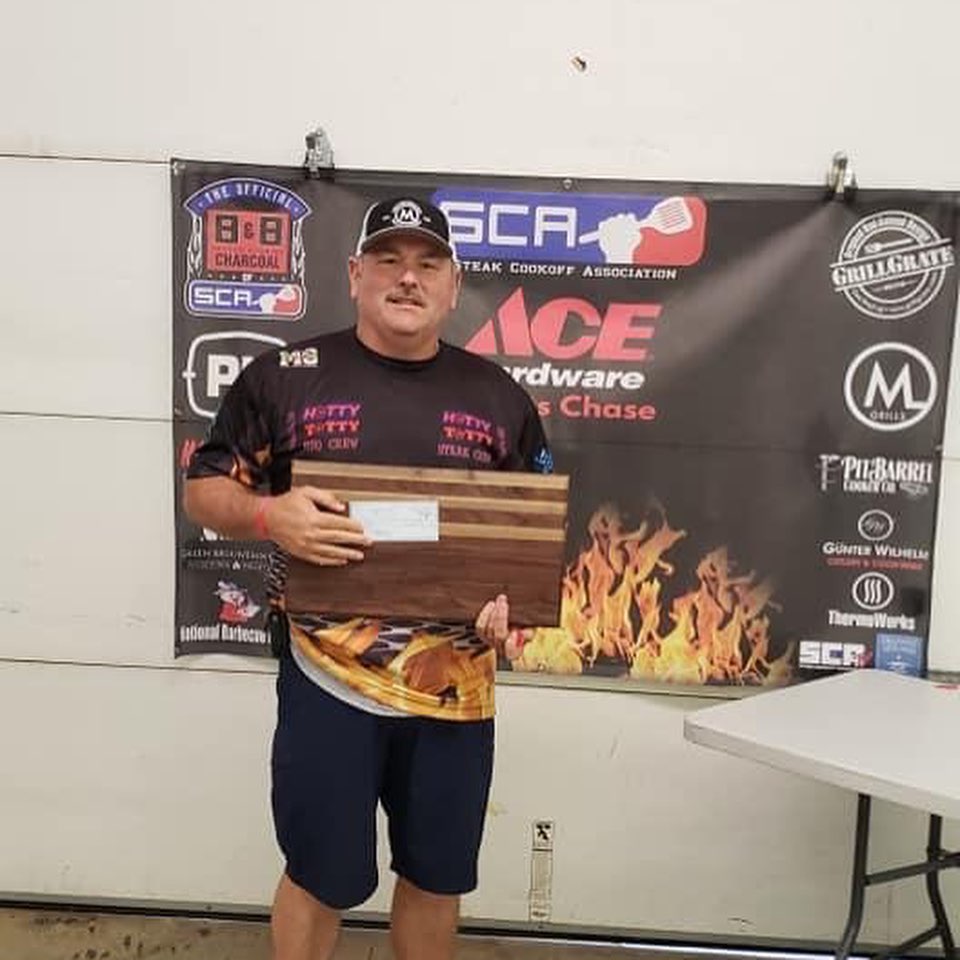 Our journey started in competitive BBQ in 2009 when my sons and I cooked a backyard competition in Columbus, MS. This journey began as a hobby just to have fun and spend time together. As time went on and our competitive spirits became stronger, we decided to start cooking the KCBS circuit locally. The journey evolved into regular practice sessions to hopefully become competitive.
As the years passed, we became more competitive and walked the stage numerous times in chicken, pork, ribs and brisket. We won numerous grand championships and received invitations to compete at the American Royal World Series of BBQ and The Jack Daniels World Championship.
As the world of competitive BBQ became more specialized, we started looking for another competitive outlet.
In 2017 I cooked my first Steak Cookoff Association steak contest and was hooked immediately. Since then my wife(Melissa), two sons(Beau and Clint) and I compete on a regular basis in the SCA circuit.
In 2019 my wife and I competed in the SCA World Championship and Kickoff Classic. We both were able to walk the stage in these events.
In 2020 my year kicked off with a 1st place win at The Shed in Ocean Springs, MS with @200 teams from all over the country.
When the dust settled in 2020 I had 7 wins in SCA contests and 25 top 10 calls in 8 states, cooking a total of 60 contests.
I finished in 14th place in the USA Ace Hardware Points Chase. I have developed 4 seasonings and a BBQ Sauce in my career with the last one be our Climax AP which has proven results across the country and in Europe. My other seasonings are Bovine Delight, 38 Special, and Rib Rub. Our seasonings are in locations from Utah to Pennsylvania and we are working on shipping to Europe. Competing is a passion for me and my family and we are very proud of the results of our products in BBQ and steak competitions across the country.
One of my proudest moments was when I teamed up with John Lindsey of All Qued Up Competition Team. John and I host the Arkassippi Smoke Live show weekly. We sum up the week's competitions and highlight special guests from the competitive circle as well. We have a host of followers to view and watch out show weekly. This has been especially helpful due to the current health crisis to bring people together to listen, learn and participate in the competitive cooking sport we all love and consider it our passion. We love our SCA family for the support they have shown us and our show over the past several months.
Lex Vanegas &
Robert Vanderipe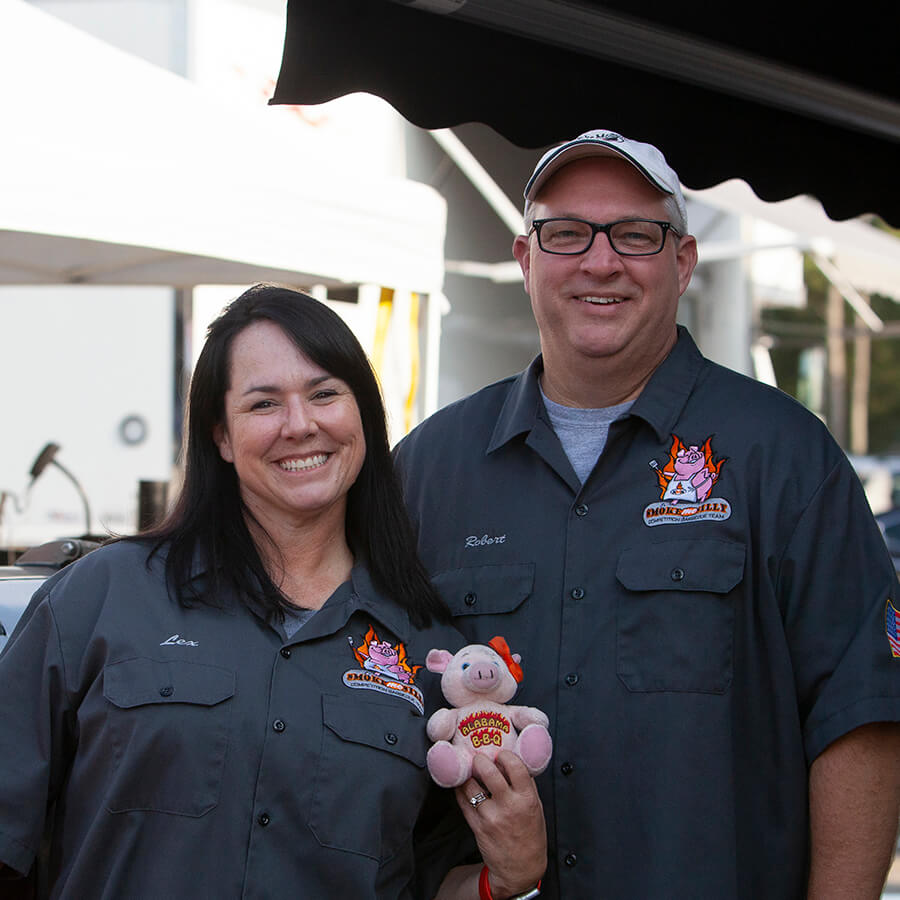 Smoke Me Silly BBQ team consists of husband and wife, Robert Vanderipe and Lex Vanegas, based out if Madison, AL. Robertand Lex have been competing in KCBS competitions since
March 2012 and have competed in more than 250 contests inover 15 states and they represented the USA in the 2015 World
BBQ Association Championship in Gothenburg, Sweden. Sincethe start, Smoke Me Silly has won 41 Grand Championships and 39 Reserve Grand Champions earning multple first places in all categories. Smoke Me Silly became a World Champion in 2014 when they won the ribs category at the Jack Daniel's World Championship Invitational in 2014. Smoke Me Silly has obtained 40 700+ overall scores, earned 34 180's (perfect scores) in all categories, and has been the Grand Champion/Team of the Year in the Alabama BBQ Association 5 years in a row.
Ron Stephens &
Laddy Ratliff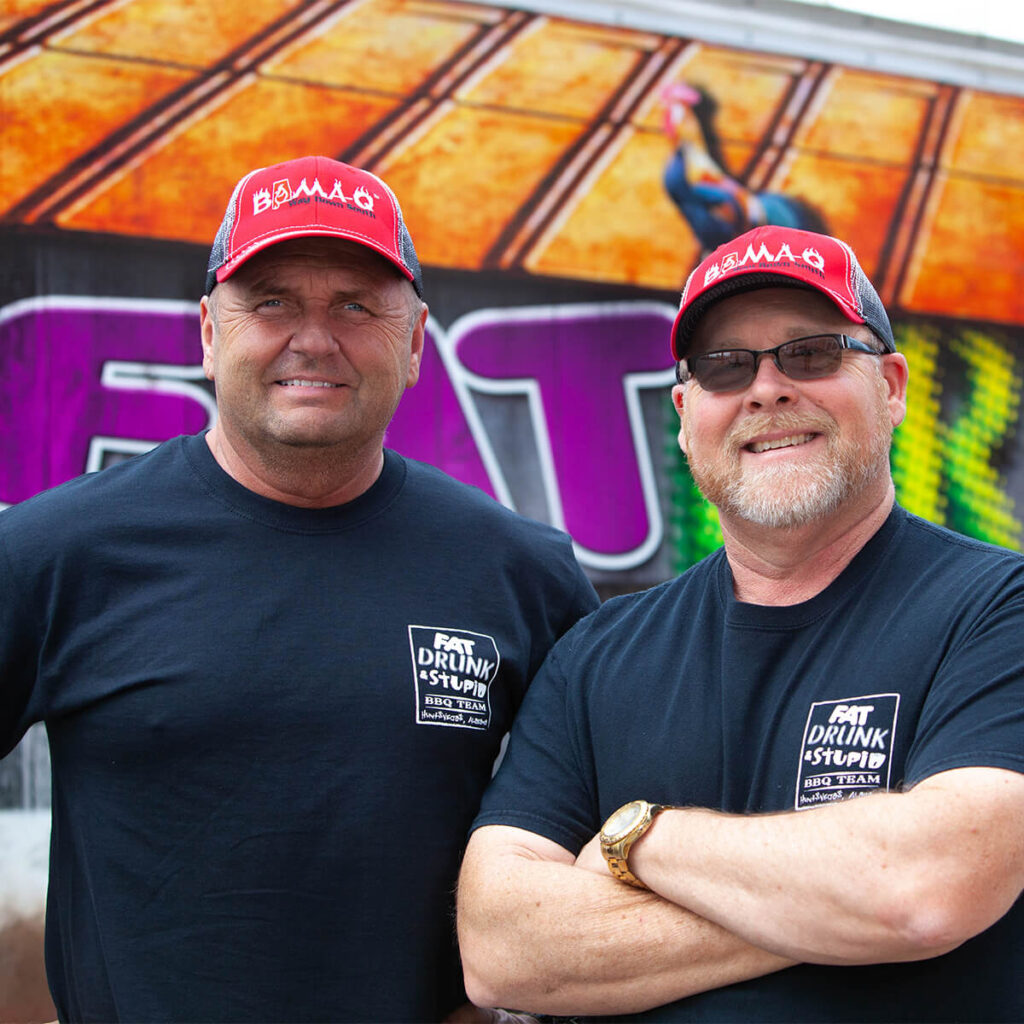 Ron Stephens and Laddy Ratliff, based out of Huntsville, AL, are a part of the successful BBQ Team Fat, Drunk and Stupid. They have been competing on the Kansas City BBQ Society circuit for the last 12 years where they have won Grand Championships in several states. But, they cook a lot more than award winning BBQ. They are both avid outdoorsman during the winter months and travel extensively hunting deer, elk, ducks, wild hogs and black bear. They are well known in outdoors circles for preparing and cooking wild game.
Their cooking abilities don't stop there. They have both had success competing in events hosted by the SCA (Steak Cookoff Association) and the WFC (World Food Championships). In 2018, Ron was a part of the team that finished 2nd overall in the World Burger Championships and then in 2019 finished 5th overall in burger. Laddy has also been a part of a team that finished 5th in the world in BBQ at the World Food Championships. They are also certified judges for both the SCA and WFC.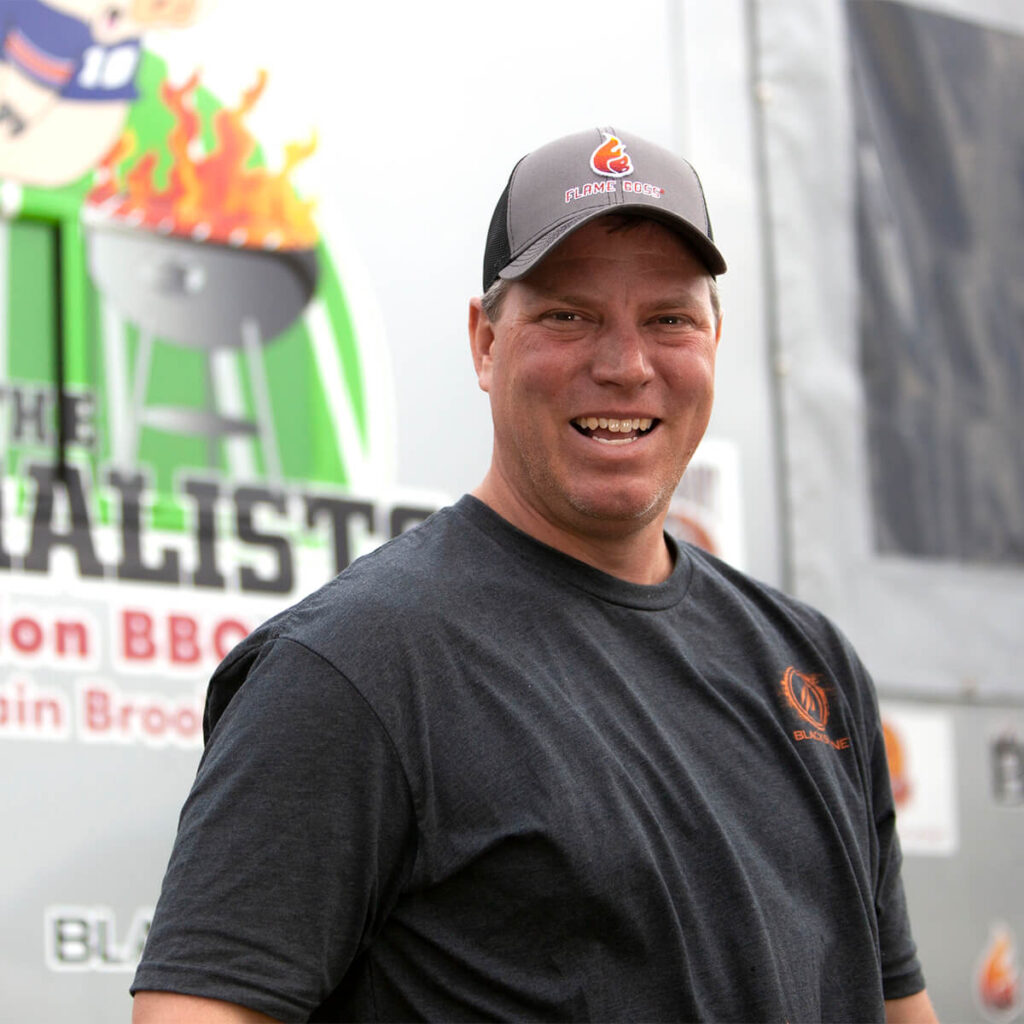 I love to compete! From battling it out on the football field to cooking it out over a hot BBQ pit, competition runs through my veins. I played football at The University of Alabama from 1992 to 1996, earning three Varsity letters during my time at the Capstone. I was a deep snapper and a tight end for the Crimson Tide and earned all SEC Honors in 1996. My burning desire to compete and win, along with a passion for cooking, lead me to professional competition barbecue. I'm a solo cook and my team, The Specialists, from Mountain Brook, AL, was the number two team in the country in the Kansas City Barbecue Society in 2015 for teams competing in fifteen events or less. The Specialists scored in a short period of time on the Alabama BBQ circuit, earning five Grand Championships the last three years and six Reserve Grand Championships along with a host of perfect 180 Category scores. I smoked the competition in the Governor's Cup BBQ points chase in Alabama the last three years finishing as Reserve Grand Champions in 2015 and 2016. My proudest achievement so far for this four-year pro is a draw selection to participate in The Jack Daniels World Championship in 2016 and coming in at eighth overall. Another proud moment is finishing ninth overall at The Jack in 2015 out of ninety-five teams from all over the world. I am the current President of the Alabama BBQ Association. My goal is to educate and grow the great sport of BBQ in Alabama. Roll Tide!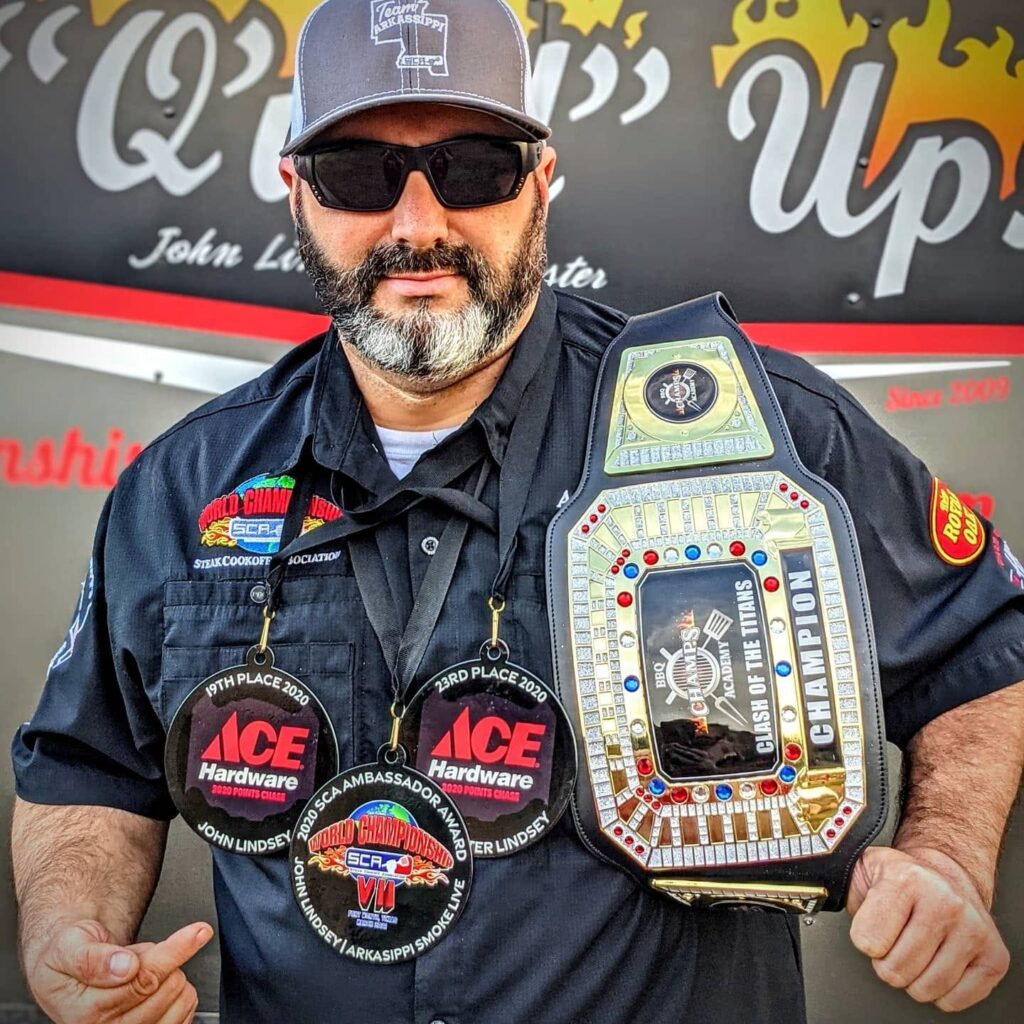 John Lindsey grew up cooking with his grandmother in the small town of Harrisburg, Ar. At the young age of 3 years old, John's grandmother would stand him up in a chair in the kitchen and let him watch in amazement as some of the best soul food dishes were prepared on an old-fashioned wood-fired stove in an old-time way. It was these experiences with his grandmother Lille Mae that shaped and piqued his interest in cooking for others. That love of cooking has been a part of John all of his life. Finally, in 2015, John decided to bring his love for cooking and competition together when he entered his first bbq competition in Kennett Mo one Memorial Day Weekend.
When the dust settled, John walked away from his very first bbq competition with 2 top 5 finishes in chicken and pork and the rest is history. After a great run on the KCBS BBQ Circuit, John started cooking in the Steak Cookoff Association in 2017 and fell in love with the SCA and competition steak cooking after he won his very first cook in White Hall, Ar. Since then, John has cooked hundreds of competitions and had many wins on the competition circuit.
John Lindsey is the Grillmaster of the All Q'ued Up Competition Cooking team and is a sought after grilling instructor, teacher, and talk show personality. He has a full line of seasonings and rubs and is a co host of the popular facebook cooking talk show, Arkassippi Smoke Live.
The following is a list of just some of John's accomplishments:
Co-Host Arkassippi Smoke Live
Member of Hasty Bake Pro Staff
We have a full line of All Q'ued Up Rubs on the market and a sauce coming soon. The All Q'ued Up Rockin' Rooster Poultry Seasoning was voted the NBBQA 1st Place Poultry Rub for 2021.
Active social media including Instagram, Facebook, TikTok, and YouTube.
Active guest on several popular podcasts and talk shows including The Butcher BBQ Podcast, BBQ Champs Live, The Pitmasters Podcast, The Tailgate Guys Podcast, The BBQ Beat w/ Kevin Sandridge, and The Earl Ferral Show on The Voice FM 107.9.
Member of Royal Oak Pro Staff
Member of the BBQ Champs Academy team of Pimasters and Grillmasters with a full tell all SCA Masterclass video series at bbqchamps.com.
2018 Steak Cookoff Association Newcomer Of The Year
2018 SCA National Points Race 4th place finisher
2019 SCA National Points Race Champion Runner Up
2020 Winner and Grand Champion of BBQ Champs Academy Ultimate Steak Showdown steak competition.
2020 SCA Ambassador Of The Year
4 time Qualifier for the SCA World Championship
Crowned Grand Champion at the first ever SCA QUAD event in Azle, Tx.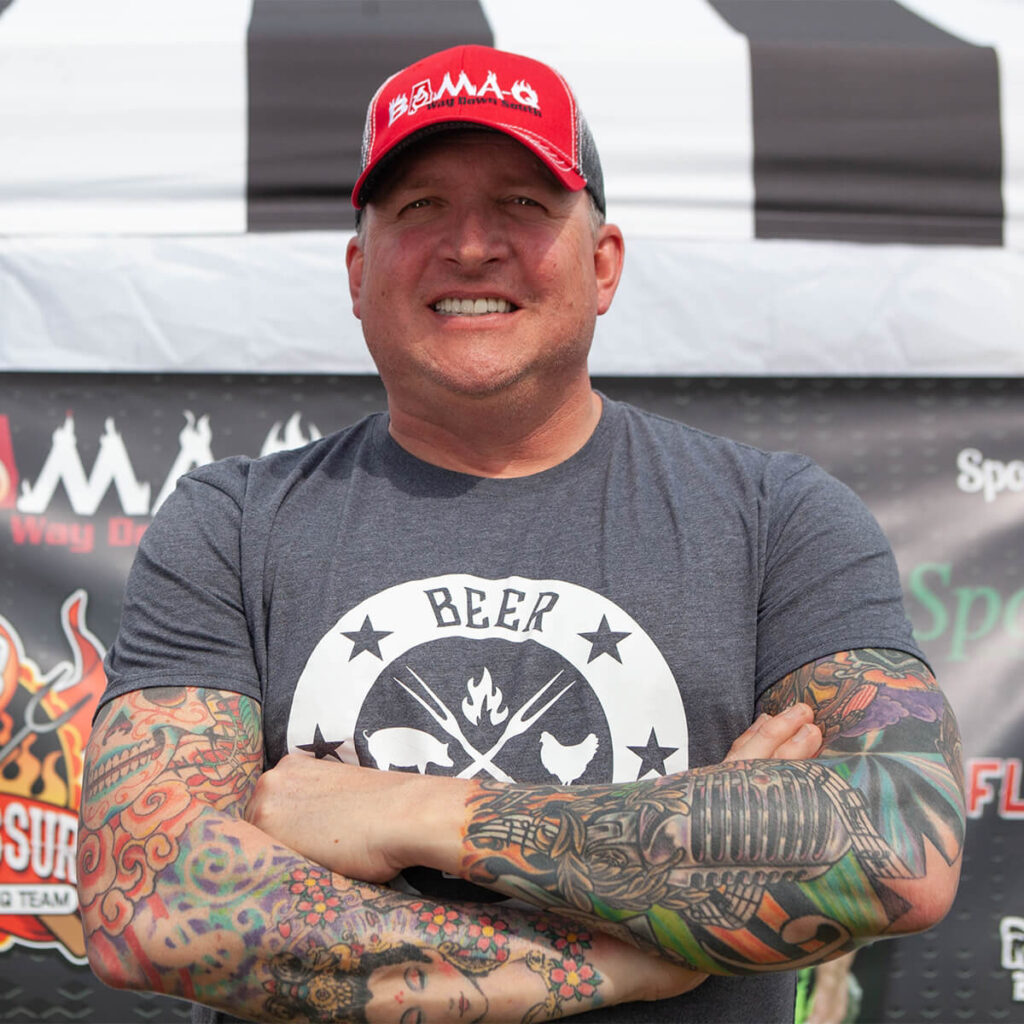 My name is Rob Nelson and I'm very passionate and competitive. My team, Beer Pressure Steak and BBQ, always strives to turn in the very best meat at every competition. I've loved cooking and competing my whole life. As a child, I attended after-school cooking classes. That desire to cook the very best tasting food is still with me today. I loved watching BBQ Pitmasters on TV. The show inspired me to compete in an organized event. I searched YouTube and watched videos of many different cook teams. Then I found out about Steak competitions and the SCA. After spending a number of hours watching steak competitions, I decided to give it a shot. I knew I cooked a good steak but I didn't know if I could cook one and win. I signed up for a couple of contests and got my name called right away. Then I competed in the Kentucky State Championship Competition in Glasgow in 2019. I competed against the best of the best in the steak world, finished in 2nd place and won a big trophy for big money. Even better than that…I made friends with some heavy hitters in the steak game. The SCA family is made up of wonderful people. I've had some amazing moments in the steak world and I'm continuing my quest to be the best I can be. I'm looking forward to cooking in more episodes with the Bama-Q TV family. May the future bring us all success and fellowship!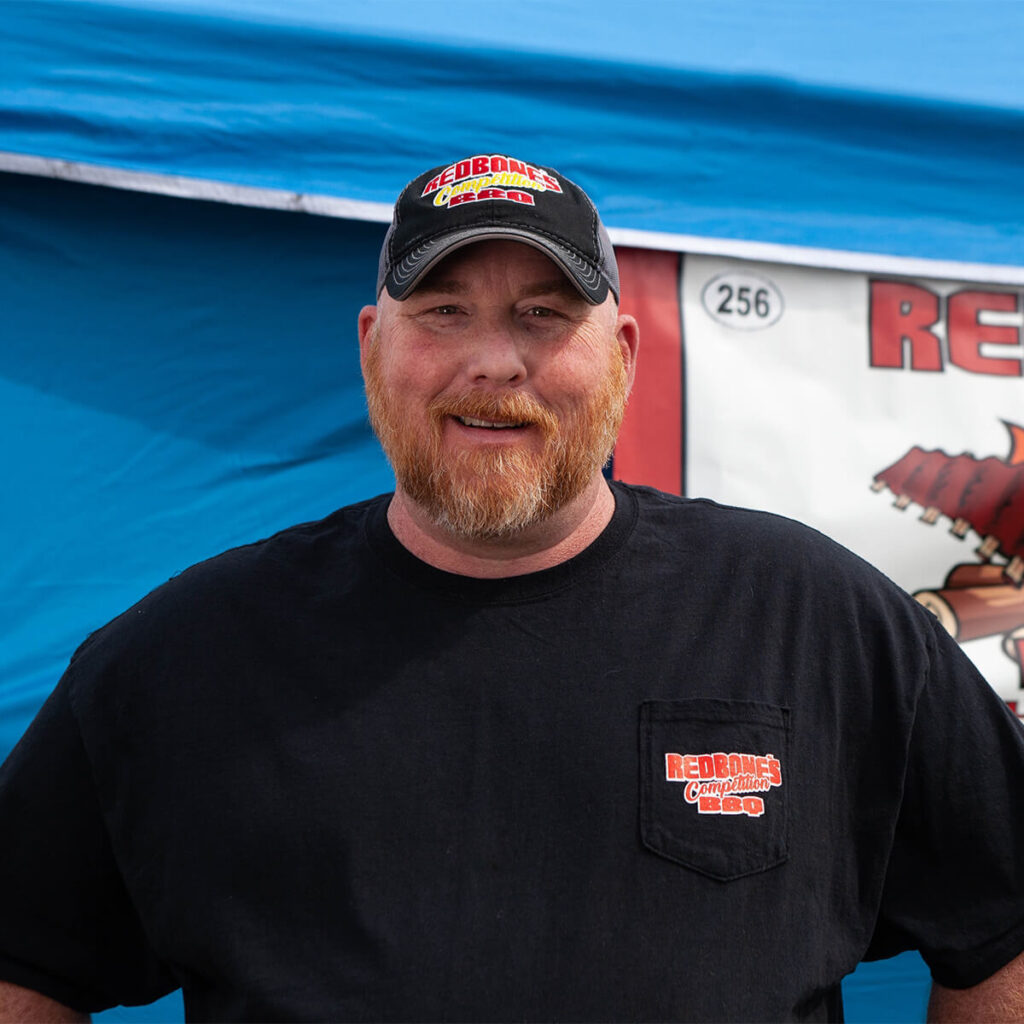 I'm Russ Allen of REDBONES BBQ. I've been cooking competitions since April of 2018. That first year my team cooked 16 contests and finished up with a 5th place in the Alabama Barbeque Association Team of the Year points. I joined Bama-Q in 2019 and appeared in Season 3. I competed in 22 contests including 4 or 5 SCA events. I finished 4th in the ABA TOY points race and also won a first-place steak finish in Decatur, AL at Riverfest. By winning that, I earned my golden ticket to the World Food Championships in Dallas, TX. In 2020 I appeared in Season 4 of Bama-Q. Even with the COVID pandemic we managed to cook in 13 BBQ contests and 7 or 8 SCA events. With contests cancelling all over the state of Alabama, we had to travel a little more than we were accustomed to. We travelled to Mississippi, Florida, Tennessee, Indiana, Virginia, Kansas and Georgia, where we won our first Grand Championship. We earned enough points in the KCBS Team of the Year points race to be honored with a first place in chicken and 8th place in ribs in the world for 2020. We cooked in the KCBS World Invitational BBQ Contest in Kansas and were awarded Team of the Year. We also finished up in 4th place again in the 2020 ABA TOY points race. It's been a heck of a ride and I enjoyed every minute of it. This is the only hobby I know of where your fellow competitors are also your family. I've made friends all over the country that will last a lifetime.